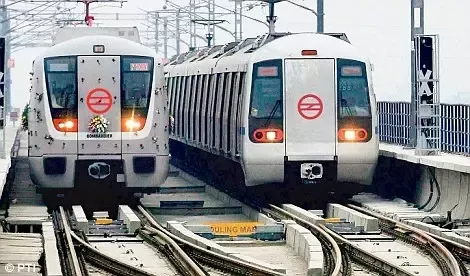 The Delhi Metro has achieved a historic milestone by becoming India's longest metro network, spanning an impressive 393 kilometers. This remarkable feat was accomplished with the recent inauguration of the Dwarka Sector-21 to Yashobhoomi Dwarka Sector–25 Metro section on the Airport Express Line corridor. The Delhi Metro Rail Corporation (DMRC) manages and operates this extensive rapid transit network, serving not only the national capital but also neighboring cities like Noida, Ghaziabad, Faridabad, Ballabgarh, and Gurugram.
Delhi Metro's Journey Delhi Metro embarked on its transformative journey on December 25, 2002, with the commencement of services from Shahdara to Tis Hazari on the Red Line. Since then, it has expanded significantly, currently operating more than ten lines that crisscross the Delhi-NCR region.
Overview of Delhi Metro Corridors The Delhi Metro network comprises various lines, each contributing to the extensive coverage of the region:
Red Line: Stretching 33.48 kilometers, the Red Line features 29 stations and four key interchanges.
Yellow Line: Covering 47.25 kilometers from Samaypur Badli to Millenium City Centre Gurugram, the Yellow Line boasts 37 stations and eight interchanges.
Blue Line (Line 3 and 4): This 55.56-kilometer corridor connects Dwarka Sector-21 to Noida Electronic City, encompassing 50 stations and ten interchanges.
Green Line: Spanning 27.96 kilometers, the Green Line includes 24 stations and four interchanges.
Violet Line: Extending over 45 kilometers, the Violet Line features 34 stations and five interchanges.
Pink Line: Covering 57.49 kilometers from Majlis Park to Shiv Vihar, the Pink Line encompasses 38 stations and eleven interchanges.
Magenta Line: This 34.12-kilometer line comprises 25 stations and four interchanges.
Grey Line: Spanning 4.98 kilometers, the Grey Line connects Dwarka to Dhansa Bus Stand, with four stations and one interchange station at Dwarka.
Airport Express Line: Stretching 24.9 kilometers, the Airport Express Line boasts seven stations and three interchanges.
Rapid Metro (RMGL): Covering 10.58 kilometers, this route includes 11 stations and one interchange facility at Sikanderpur.
Conclusion The Delhi Metro's expansion to become India's longest metro network signifies a significant milestone in the nation's public transportation infrastructure. This extensive network not only enhances connectivity within the Delhi-NCR region but also underscores the city's commitment to sustainable and efficient urban mobility.