We can Help You With
Online Therapy/ Counselling for Depression, Anxiety, Addiction, Phobia, Relationship Issues, Parenting Issues, Grief & Trauma, Self-Improvement & Confidence Building, and many more at India Advocacy platform through our experienced therapists.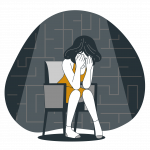 Depression
01
Depression
Fight through those Suffocation feelings and make a postive change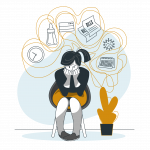 Stress
02
Stress
Learn to cope with your everyday tasks and enhance your productivity
Anxiety
03
Anxiety
Leave behind your apprehensions and take charge of your life in a calm manner
Relationship
04
Relationship
Take your relationship from bitter to better and strengthen your bond
Bipolar Disorder
05
Bipolar Disorder
Say goodbye to mood swings and live with a clearer mind
OCD
06
OCD
Stop your urges and thoughts to take control of your life
Sleep
07
Sleep
Relieve the inability to fall or stay asleep without any medication
Addiction
08
Addiction
Overcome destructive behavior patterns and regain control of your life.
Its OK, to not feel OK! It definitely takes courage to speak out, and this courage might be needed and required for any individual, irrespective of the age, gender, profession, culture etc. Counselling helps oneself to find solutions to inner questions and attain growth in life. 
Counselling could help someone who is struggling to gain confidence for Self-Improvement, hoping to nurture their relationship, trying to strike work-life balance, struggling to parent their adolescent, trying to find some sound sleep, and many more.
"Counselling" or "Therapy" acts as a mode of expressing your emotions, thoughts, feelings, inhibitions and seeking guidance from trained experts for attaining better mental wellness. Counselling could help you self-introspect, nurture relationships, attain work-life balance, gain confidence and moreover achieve holistic wellbeing. 
One could seek counselling to tackle Anxiety, Depression, Stress, help with Relationship building, balancing Work-Life, overcoming Phobias, learning Parenting skills or dealing with Adolescents, managing Anger Issues, and work on one's Self-Improvement etc. A trained counsellor could guide you to self-analysis, understand your thoughts and find possible solutions. Counsellors shall listen and understand you with a completely unbiased perspective to help you grow and feel better.
100+ People Choose India Advocacy Every Day for Counsellor Consulting!